The Volvo 780 Was A Bertone-Designed Swedish Brick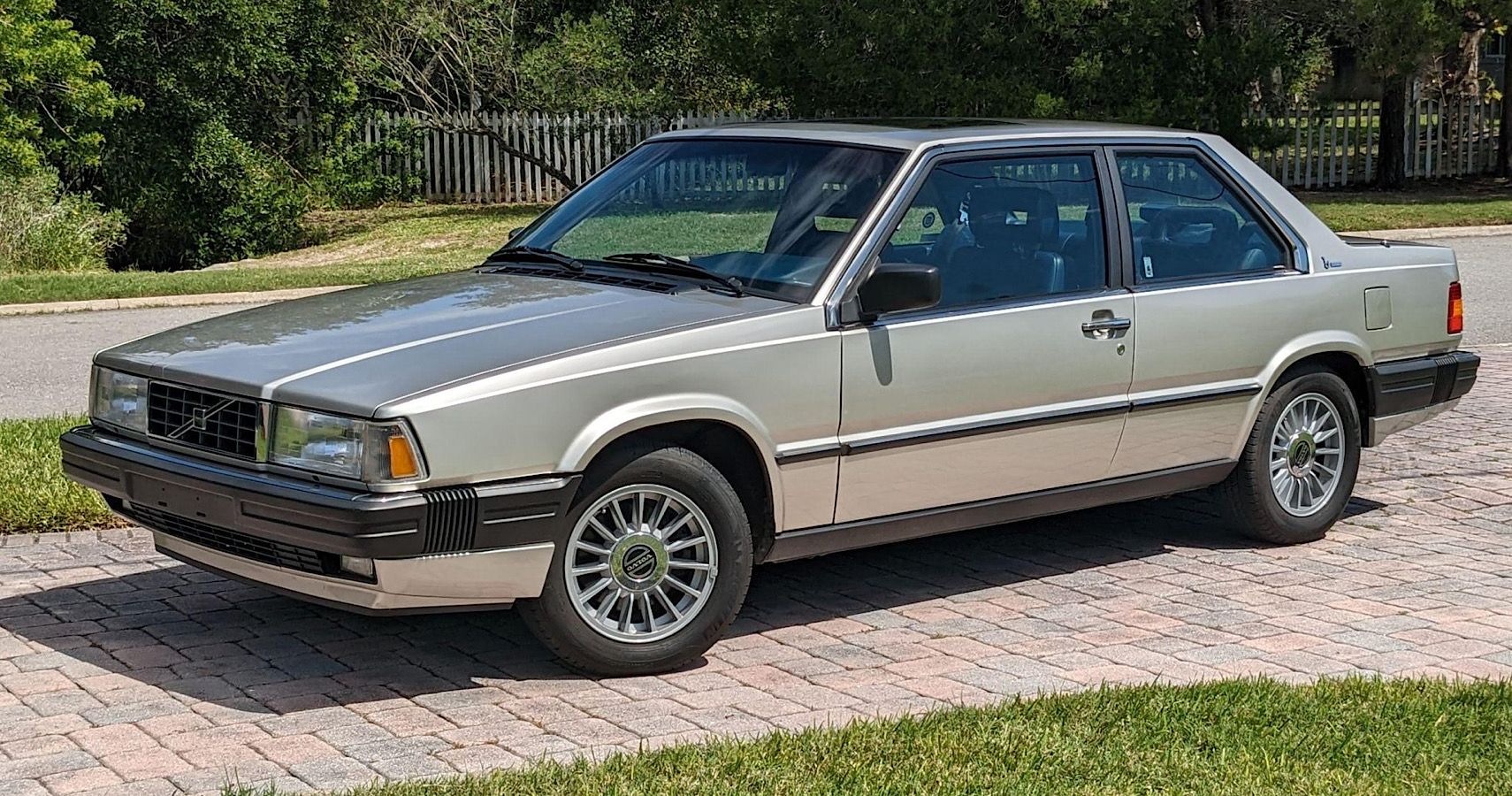 Bertone, the Turin-based industrial design company, is known for designing some truly beautiful cars. Some of their more famous Bertone-designed cars include the Lamborghini Miura, Lamborghini Countach, and Lancia Stratos. These cars were sleek, revolutionary, and brought a certain wow factor that would stop any person dead in their tracks. While Bertone's design focus was initially aimed at cabriolets, grand tourers, and sport cars, their scope eventually broadened to more conventional and obtainable economy cars including several Opel Astras.
Notably, manufacturers of today are more focussed on function than design, and with that sad realization, the need for Bertone's design influence is rarely seen today. Even so, Bertone is still wowing the automotive community with their latest hypercar, the GB110. Knowing the breadth of their capabilities, it was no surprise that Bertone partnered with Volvo to make their new mid-size sedan into a luxurious two-door luxurious touring car. The Volvo 780 was a combination of the known Swedish capability and reliability, and the luxury and styling of Bertone.
RELATED: A Detailed Look Back At The Volvo 240 Turbo Station Wagon
Bertone's First Swedish Fling: The Volvo 262C
The 780 Bertone was not the first time the famous Italian designer had partnered with Volvo for a low-production luxury car. In the late seventies, Bertone and Volvo released the 262C, Volvo's attempt at creating their own mid-size luxury car. The 262C was basically Volvo's 262 GL with a chopped and vinyl covered roof. Other than the "formal roof" design, meant to emulate those seen on luxury cars such Lincoln's Mark series, other panels of the car were identical to Volvo's 262 GL. For assembly, Volvo would send the stock panels and drivetrain to Turin, Italy, where Bertone would add their own custom roof pan and interior components.
Besides the roof, the interior is where Bertone's 262C really stood out from any other Volvo. While Volvo was mainly known for practicality and durability, the Swedish manufacturer was not necessarily synonymous with luxury. Thanks to Bertone, the interior was well appointed with lashings of plush leather, wood veneer accents, thick carpets, and other luxury items. Despite the compromised headroom from the lower roofline, the Bertone 262C was a nice place to sit and waste away while sitting in traffic.
Volvo's 700 Series: The More Luxurious Mid-Size Sedan
Much like Bertone's 262C, the 780 was based on Volvo's 700 series sedan, specifically the 760. Unlike the 200-series, Volvo's 700-series was a brick of a different animal. The 700-series Volvo was not only larger, but offered more refinement, more space, and more luxurious than its predecessor. While larger, the 700 series was noticeably lighter and helped with fuel economy. The design was more boxy, very eighties, but this was not a result of styling; the flat surfaces and hard angles were actually driven by Volvo's finance team, to reduce production costs of body panels. The simpler the design, the less cost. To many, the boxy design is still considered handsome today, and is part of the reason many enthusiasts still adore Volvo cars of the past.
RELATED: 10 Swedish Cars That'll Soon Be Worth A Fortune
The Volvo 780 Was An Italian-Made, Swedish Brick Of Luxury
Bertone's Volvo 780 had nearly every body panel revised, unlike the 262C where only the roof was altered. One of the most noticeable changes that onlookers noticed is the lack of rear doors; while the 700 series came in sedan and station wagon form only, Bertone and Volvo insisted their collaboration should result in a personal, luxury-oriented, touring car for those who valued both style and practicality. Even though the 780 sported all new body panels, the design language wasn't so much of a departure from Volvo's factory cars where it stood out in a line-up. Only small, tasteful, changes were made; the roof was lowered only slightly, and overall length was stretched. They say beauty is in the eye of the beholder, but the Volvo 780 Bertone is a handsome car with a timeless design.
As it was with the 262C, the cabin received special attention from Bertone to ensure the appropriate amount of tasteful luxury was provided for both driver and passenger. Fine leather upholstery, wood trim, multi-adjustable heated seats, and a premium sound system acceptable enough to play Vangelis, made the interior a fitting place to enjoy the long drive home. Performance wasn't necessarily a focal point with the 780, but a potent 4-cylinder turbo option was offered in the later half of its 5-year production run, producing adequate power for a personal luxury car. The 780 Bertone was a rare car, with roughly 8,500 examples produced, and exclusivity is always expensive. In its final year of production, the Volvo 780 Bertone cost $41,945, that's the equivalent of roughly $87,000 in today's money. Today, the 780 Bertone is far more obtainable, but for how long?
Bertone's Volvo 780 Is An Affordable, Italian-Designed, Collector's Car
The Volvo 780 Bertone ticks all the right boxes for an ideal collector's car; rare, luxurious, designed by famous Italian-designer, and wildly inexpensive. When new in 1991, the 780 cost buyers $41,945, that translates to roughly $87,000 in today's money. Lucky for potential collectors, the 780 Bertone doesn't cost anywhere near that amount. In the last five years, average prices for the Volvo 780 Bertone have hovered around $7,000, and for a hand-made, Italian-built, luxury touring car, that's a bargain!
At those prices, the Volvo 780 is far less than the other affordable Bertone classic, the Fiat X1/9. We're not sure how much longer prices at this level will last, so act fast for something truly special. The 780's timeless Italian-design, tasteful luxury, and Swedish practicality make this a must-have. Fire up the classifieds, and start looking!
Sources: hemmings.com, volvocars.com, classic.com