Tennessee House expulsion: Nashville sends Justin Jones back to the Tennessee House days after GOP lawmakers ousted him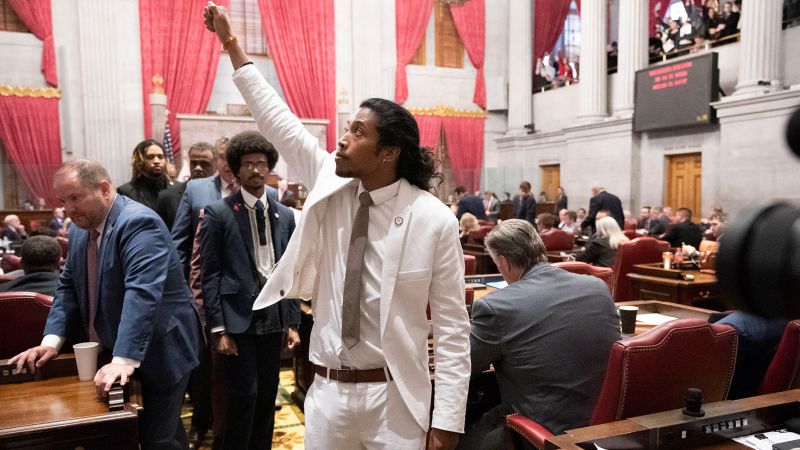 CNN
 — 

Four days after being expelled by Tennessee's Republican-controlled House of Representatives, Democrat Justin Jones marched back to the Capitol on Monday following a unanimous vote by the Nashville Metropolitan Council to reappoint him as an interim representative.
His return representing Nashville's House District 52 put a exclamation point on a remarkable 100-hour stretch in which Jones and another Black Democrat, Justin Pearson, lost their seats in an extraordinary, emotionally charged legislative session, after calling for gun reform during a protest on the chamber floor. A third Democrat who had joined them, Rep. Gloria Johnson, narrowly avoided expulsion during Thursday's House session.
Jones returned to the House floor to cheers. His fellow Democrat, Rep. Antonio Parkinson, introduced him to the session as "our newest member."
After the city council decision late in the afternoon, Jones joined demonstrators in a march to the state Capitol.
The crowd gathered at the meeting erupted into cheers after the vote. Those marching with Jones chanted, "Whose house? Our House."
Speaking from the steps of the Capitol after walking the four blocks from City Hall, Jones told the crowd: "Today we are sending a resounding message that democracy will not be killed in the comfort of silence. Today we send a clear message to Speaker Cameron Sexton that the people will not allow his crimes against democracy to happen without challenge."
State law allows local legislative bodies to appoint interim House members to fill the seats of expelled lawmakers until an election is held. The 36-0 vote to return Jones to his seat followed a vote to suspend a procedural rule that prevents an individual from being nominated and appointed to the seat in the same meeting.
On Thursday, Jones and Pearson were forced out of the legislature in a two-thirds majority vote cast by their Republican colleagues. Johnson, a White woman, survived the vote and held on to her seat.
Sexton earlier indicated he would not stand in the way of the appointments if the local governing bodies choose to send Jones and Pearson back to the chamber.
"The two governing bodies will make the decision as to who they want to appoint to these seats," a spokesperson for the speaker's office told CNN Monday. "Those two individuals will be seated as representatives as the constitution requires."
Pearson's vacant District 86 seat will be addressed during a special meeting of the Shelby County Board of Commissioners in Memphis on Wednesday afternoon, Commission Chairman Mickell Lowery said.
"I believe the expulsion of State Representative Justin Pearson was conducted in a hasty manner without consideration of other corrective action methods," Lowery said in a statement.
Pearson joined Jones on the steps of the Capitol after the Nashville Metropolitan Council vote.
"It's never a good idea to give up on the movement led by people that look like this, who are committed to the ideals but not just committed in heart but in body and spirit… they'll show up for the movement," Pearson said. "The movement lives."
Having a voice and a vision in the state House matters, Pearson told supporters.
"You might try and silence it. You might try and expel it, but the people's power will not be stopped," he said. "Because this is what democracy looks like."
Protesters planned a day of action that included a rally before the Metro Council meeting before the march to the state Capitol.
The expulsions and expected protest are part of the long-standing debate over the accessibility of guns in America, with this latest standoff spurred by the mass shooting last month at a Nashville Christian school that left six people dead, including three 9-year-old children.
In the wake of that shooting, Jones, Pearson and Johnson took to the state House floor to advocate for gun control, using a bullhorn to address their colleagues and protesters.
Republicans accused the trio of "knowingly and intentionally" bringing "disorder and dishonor to the House of Representatives" without being recognized to speak, CNN affiliate WSMV reported. Republicans then held a party-line vote Thursday to oust Jones and Pearson.
The expelled representatives called the expulsions undemocratic and racist.
"What happened was a travesty of democracy because they expelled the two youngest Black lawmakers, which is no coincidence from the Tennessee Legislature," Jones said Friday on "CNN This Morning." "Because we are outspoken, because we fight for our district."
Pearson, speaking at an Easter Sunday service at The Church of the River in Memphis, thanked the congregation and community for their support.
"The Republican-led supermajority of the Tennessee General Assembly sought to have a political lynching of three of its members because we spoke out of turn against the status quo of the government, after the tragic deaths of six people in the shooting at The Covenant School in Nashville," he said.
Attorneys for the ousted representatives – among them former US Attorney General Eric Holder – called their removals "unconstitutional" in a letter Monday to Sexton, saying, "Their partisan expulsion was extraordinary, illegal and without any historical or legal precedent."
The letter from Holder and attorney Scott J. Crosby – who are representing Jones and Pearson, respectively – urged the House to not "compound its errors by taking any further retributive actions."
"The world is watching Tennessee," the letter said. "Any partisan retributive action, such as the discriminatory treatment of elected officials, or threats or actions to withhold funding for government programs, would constitute further unconstitutional action that would require redress."
According to the Tennessee Constitution, since the next general election is more than 12 months away, in November 2024, a special election will be held to fill the seats.
Tennessee law allows for the appointment of interim House members to fill the seats of expelled lawmakers until the special election is held.
No date has been set for a special election but state law provides a time frame for when the governor should schedule them.
More about the three representatives:

Rep. Justin Pearson:
District: 86
Age: 28
In office: 2023-
Issues: Environmental, racial and economic justice
Of note: Successfully blocked oil pipeline from being built in south Memphis
Recent awards: The Root's 100 Most Influential Black Americans (2022)Rep. Gloria Johnson:
District: 90
Age: 60
In office: 2013-2015, 2019-
Issues: Education, jobs, health care
Of note: Successfully organized in favor of Insure Tennessee, the state's version of Medicaid expansion
Recent awards: National Foundation of Women Legislators Women of Excellence (2022)Rep. Justin Jones:
District: 52
Age: 27
In office: 2023-
Issues: Health care, environmental justice
Of note: Wrote "The People's Plaza: 62 Days of Nonviolent Resistance" after helping to organize a 2022 sit-in
Recent awards: Ubuntu Award for outstanding service, Vanderbilt Organization of Black Graduate and Professional Students (2019)
A "writ of election" for "primary elections for nominations by statewide political parties to fill the vacancy" must be scheduled within 55 to 60 days, state code says. And a general election to fill the vacancy must be scheduled within 100 to 107 days.
It appears both Jones and Pearson qualify to run for their seats again in the special election.
According to Tennessee law, a state representative must be at least 21 years old, a US citizen, a resident of the state for at least three years and a resident of their county for one year preceding the election.
They must also be a qualified voter of the district, which requires a resident to be 18 years old and free of certain felony convictions.
Both Jones and Pearson meet those qualifications.
And while the state Constitution says members can be expelled for disorderly behavior with a two-thirds majority vote, they cannot be expelled "a second time for the same offense."
Expelling lawmakers is quite rare in Tennessee, and last week's vote from the state's Republican supermajority has drawn reactions from scores of high profile officials.
On Thursday, President Joe Biden called the expulsions "shocking, undemocratic and without precedent" while criticizing Republicans for not taking greater action on gun reform.
Vice President Kamala Harris traveled to Nashville on Friday to advocate for stricter gun control measures and highlight the importance of protecting Americans from gun violence. She also privately met with Jones, Pearson and Johnson.
"We understand when we took an oath to represent the people who elected us that we speak on behalf of them. It wasn't about the three of these leaders," Harris said in remarks after the meeting. "It was about who they were representing. It's about whose voices they were channeling. Understand that – and is that not what a democracy allows?"
Jones said he and the other lawmakers had been blocked from speaking about gun violence on the House floor that week, saying that their microphones were cut off whenever they raised the topic, WSMV reported.
Following the three representatives' demonstrations last Thursday, Republican House Speaker Cameron Sexton called their actions "unacceptable" and argued that they broke "several rules of decorum and procedure on the House floor."
There have been two expulsions in the state House over the past 157 years. The last expulsion in the state House was in 2016, when a representative was expelled over allegations of sexual harassment. In 1980, a representative was expelled after a member was found guilty of accepting a bribe while in office.
Standing on the Tennessee House floor for the first time after being reinstated, Jones said, "I want to welcome the people back to the people's House."
"Today we stand as witness to the resurrection of a movement of a multi-racial democracy, that no unjust decision will stand," Jones said. "The people of District 52, all 78,000 people, have a voice in this chamber once again."