Take a walk through the gardens of Tucson's pro green thumbs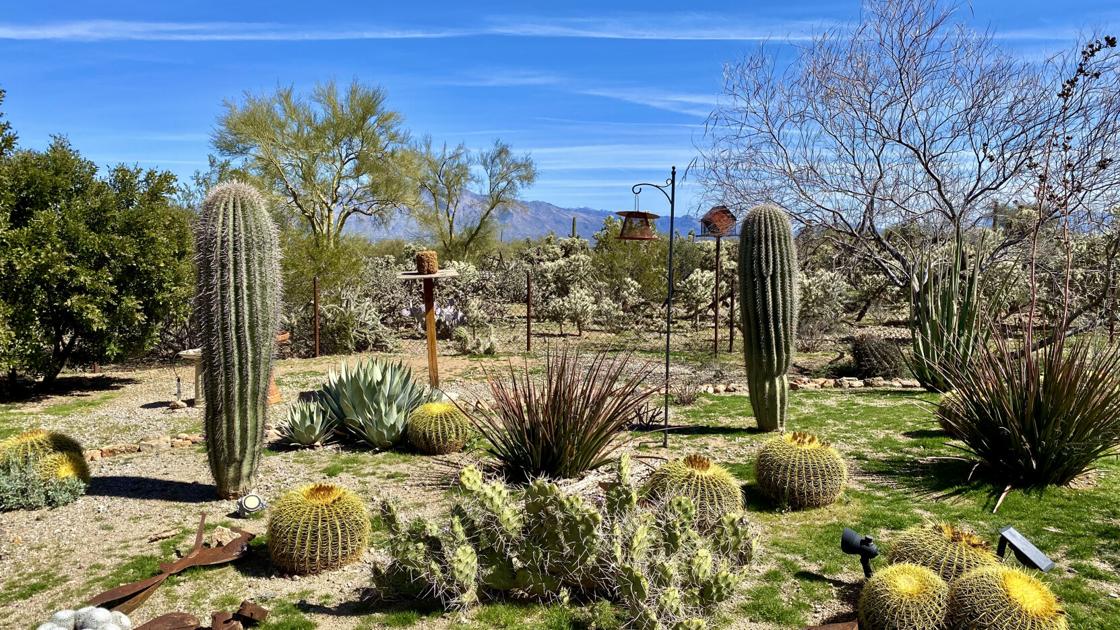 There's nothing like seeing other people's gardens to get some inspiration. It's even better if those "other people" happen to be trained Pima County Master Gardeners. The 22nd annual Home Garden Tour, which features four Master Gardener residences and gardens, will be held on April 1, from 9 a.m. to 3 p.m.
The garden tour has been a roughly annual event since 1998. The tour is a great way for the public to learn about native plants, rain harvesting, water conservation, garden design, plant selection, and lots of other topics.
This year the featured gardens will be on the west side of town, chiefly west of Silverbell Road, in the foothills of the Tucson Mountains. The four gardens each have different themes and demonstrate a variety of features, including passive and active rainwater harvesting, greywater harvesting, shade gardens, and wildlife gardens. Each of the gardens demonstrates low water use plantings. For more information on each garden, along with plant lists, take a look at the 2023 Home Garden Tour website.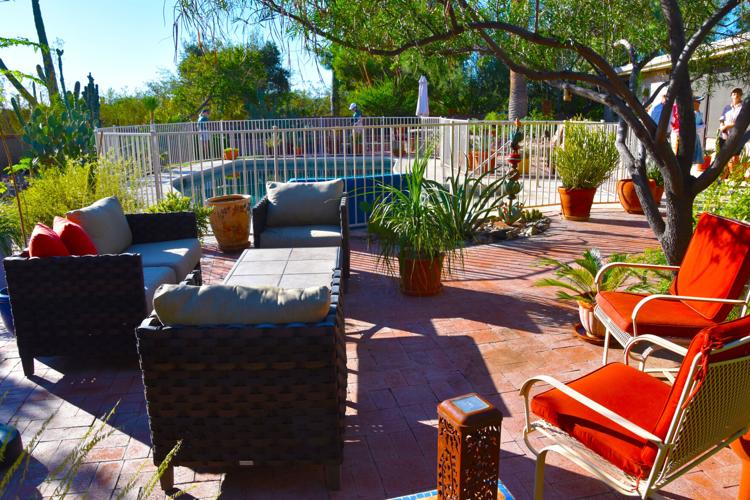 Marlene and Larry Shamis have approximately 1 acre of cultivated garden on their property. The garden initially had turf grass in the back, and after trying to keep it green they eventually decided to tear it out in favor of more drought-tolerant plantings. Marlene Shamis wishes they had taken it out sooner.
"We tried to maintain the grass for several years, and it just didn't do very well," she says.
One of their challenges has been phasing out their old irrigation system. They use rainwater and gray water in their garden, and have been fixing up the drip irrigation as needed. Shamis has focused on pollinators and is trying to reduce their irrigation needs with passive rainwater harvesting. The garden is a great example of using swales and basins to collect rainwater for your plants without needing a huge tank for water storage.
Shamis recommends planting trees first if you have a new backyard, to provide shade.
"They take the longest to grow," she says.
There is water outside the fenced area for wildlife and another water feature in the yard for birds and insects. There is also a desert tortoise enclosure. The property has spectacular views of the mountains and desert around.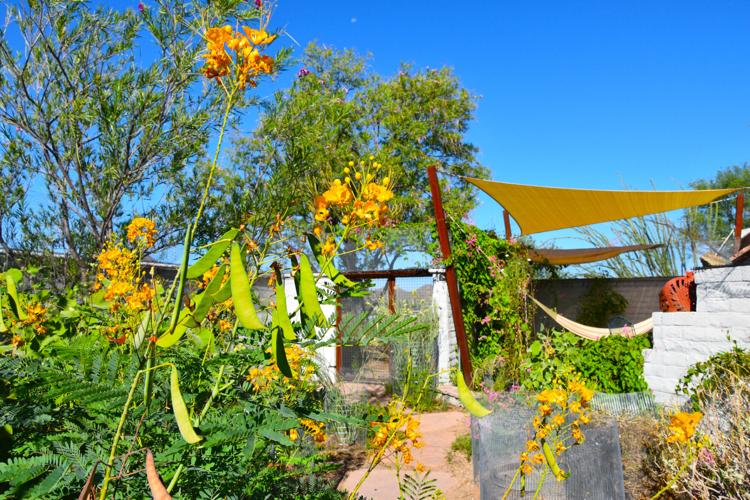 4902 W. Paseo de las Colinas
Maggie Molloy has lived in her house since the mid-70s, and the gardens have developed considerably in that time. Initially, she didn't have much time to garden.
"One of the first things we did was put the trees in and then because I worked fulltime I just kind of didn't bother about a lot of stuff until I retired," Molloy says. Around 2014 she began gardening in earnest.
Her yard has three main areas: the Catio garden, the Flutterby garden and the Sanctuary garden. The Catio garden came about because she acquired a cat who insisted on being outside.
"It's very good for the health of my cats," she says, but she needed to provide an additional space for the butterflies and moths so they didn't become victims of her cats' prowling. Hence the Flutterby garden, which has various profusely blooming native shrubs and a huge Gregg's mist flower.
The Sanctuary garden, on the other hand, attracts birds thanks to its trees, large shrubs and water feature. And the spectacular views from this side of the garden definitely induce a feeling of tranquility.
Molloy says that successful gardening requires an appreciation of the desert and the natural processes here.
"It makes for very easy gardening if we just accept the cycle of the plants," she says.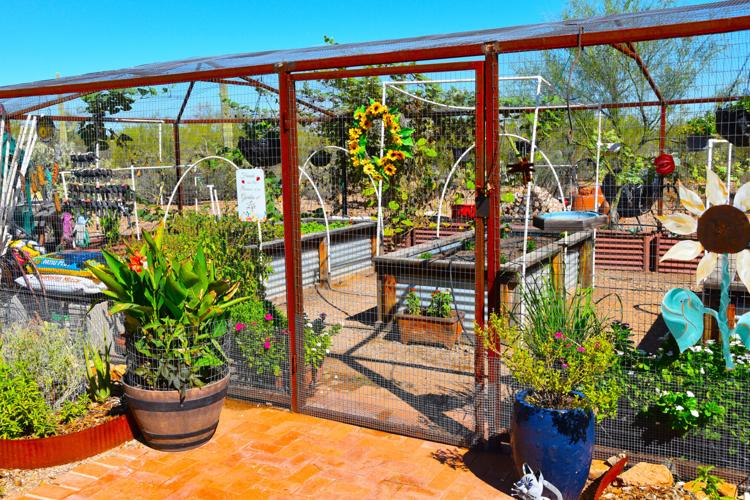 Lorrane McPherson and Bruce Fulton's garden is around 3.5 acres at an elevation of just over 3,000 feet. Their location is a perfect place to observe how you can work with different microclimates in your yard. It also features a tortoise enclosure.
McPherson and Fulton have focused on water retention on their site, as well as native plants. They also have a large rainwater tank which harvests water off their garage roof. An impressive fenced and wire-roofed building serves as a protected food growing area, although McPherson says she still gets little birds in there.
Because her garden is designed to attract wildlife, desert critters have been a major challenge to growing food — one she's overcome mostly through clever fencing. For other plants, she uses a combination of barriers and plant selection to discourage too much browsing.
"We actually have a little water on the other side of the fence out there," she says, "(to) divert them to another area of the yard."
There's also a small fruit orchard which McPherson has located in a downhill, cooler part of the yard. She says her area is colder than temperatures that are posted for the Tucson valley. Another challenge has been the rocky soil, although this hasn't been much of a problem for native trees and shrubs. For other plants, McPherson recommends compost and mulch; she also fertilizes her fruit trees.
Garden Casa Kay T also has a website, put together by Fulton, which lists all of the plants by scientific and common name, and has a map and links to features such as the tortoise enclosure.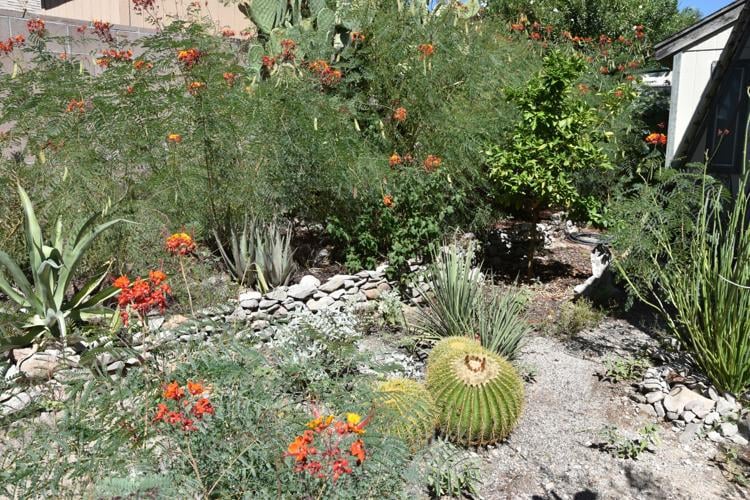 2836 W. Wagon Wheel Drive
Renee Koehler's garden is a great example of an English country garden — but with southwest plants.
"I like whimsy," she says. "I like humor in the garden." One of the ways that whimsy is expressed is the profusion of golden barrel cacti — she's planted one for every year she's had the garden.
"What I've been doing is just incorporating the native plants that I can and putting them close together and letting them kind of hug each other … and try to have something blooming like every season," she says.
Her front yard is not large, yet has a beautiful, lush variety of cacti, agave, jojoba and many other plants. She's created little secret spots for sitting and observing wildlife, and has various handmade decorative items as accents.
Koehler also practices passive rainwater harvesting and gray water harvesting.
"Because I'm on a hill, my goal is to keep as much water that would fall here in the yard," she says.
Her backyard has lots of fascinating nooks, a small greenhouse, and a beautiful Arizona ash tree as a centerpiece. There's also a fountain, which attracts red and blue dragonflies.
Koehler plans to have a demonstration on how to create your own bee house on the day of the tour. She also has a composting area for making use of her ash tree's leaves each year. She likes to plant companion plants together, particularly grasses, which she's incorporating into her garden more this year.
"I don't know that people realize that grasses can be put in with other kinds of plants," she says. "The beauty of grasses is they really improve the soil."
How to get tickets
Tickets are $20 and can be purchased at a variety of locations or online on the Pima County Extension website. The website also has links to plant lists and descriptions of each of the four gardens. There will be a limited number of tickets available, so get yours early.
You can also buy tickets on the day of the tour at the Pima County Extension Office, 4210 N. Campbell Ave., or at each of the gardens on the tour for $20 per person, cash or check only. If you want to pay by credit card, you need to purchase online. 
Ticket sale locations
Extension service office: 4210 N. Campbell Avenue (available through the day of the tour) — cash, check or credit card
Nurseries — cash or check only:
Bach's Cactus Nursery: 8602 N. Thornydale Road
Arbico Organics: 10831 N. Mavinee Drive, Oro Valley
Civano Nursery: 5301 S. Houghton Road
EcoGro: 657 W. Saint Mary's Road
Harlow Gardens: 5620 E. Pima Street
Mesquite Valley Growers: 8005 E. Speedway
Plants for the Southwest: 50 E. Blacklidge Drive
Rillito Nursery and Garden Center: 6303 N. La Cholla Blvd.
For more gardening information and articles on gardening in the Tucson area, subscribe to the free Tucson Garden Guide newsletter!
Do you have any gardening topics you'd like to see covered in the Tucson Garden Guide? Email me at [email protected] with your suggestions and questions. Thanks for reading!