5 Ways To Get The Luxe Look On A Budget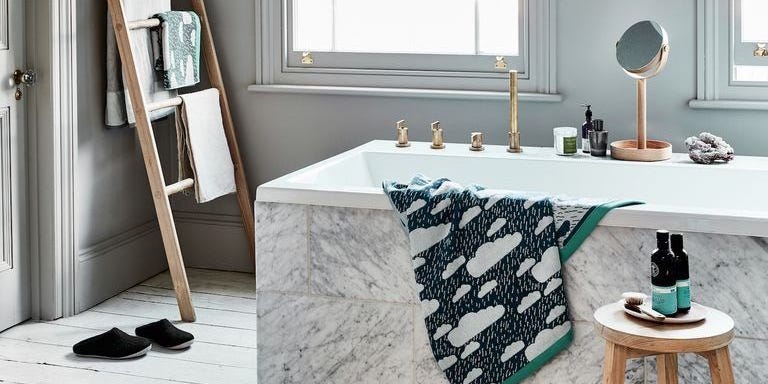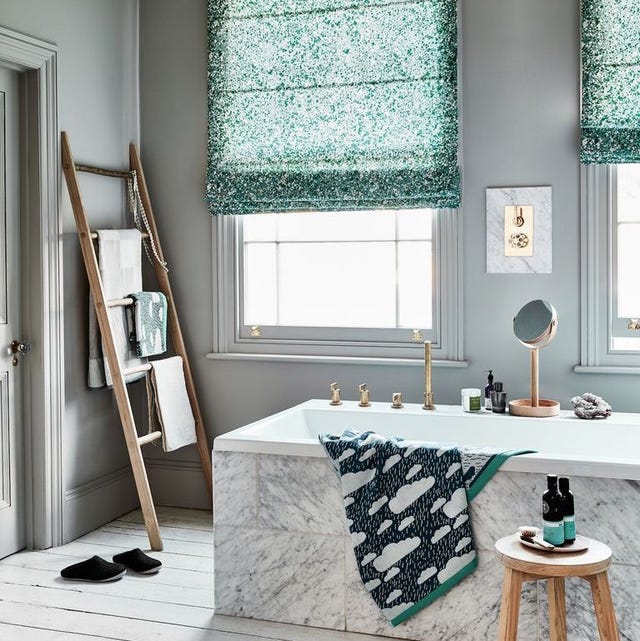 House Beautiful/Mark Scott
There's nothing quite like coming home from work, lighting some spa-scented candles and having a long, hot soak in the bath. Your bathroom should be your own spa-like sanctuary: somewhere you can retreat to at the end of the day and switch off from the world. That's why it's crucial to create a bathroom space that feels indulgent and luxurious to you.
'A luxurious bathroom, that is both indulgent and relaxing, can do wonders for our physical and mental wellbeing,' Matthew Currington, Technical Director at The Lighting Superstore, says. 'But this doesn't always mean having a minimalist bathroom or having to install the latest state-of-the-art technology.'
Having a luxurious bathroom should be an option for everyone, regardless of your style or how much money you're willing to spend. That's why we've come up with five smart ways to incorporate luxury into your bathroom without breaking the bank.
1. Upgrade your accessories
Creating a luxurious bathroom space doesn't mean you have to rip it out and start again. Start by considering your bathroom accessory choices and looking at any small fixtures you can upgrade. Focus on adding accessories that look high end but won't cost a fortune, such as gorgeous gold effect toothbrush holders and soap dishes.
Switching up fixtures such as your shower head or bathroom taps could be all it takes to improve the overall look and feel of your bathroom. 'Switching out an old shower head for a more luxurious rainfall option is a great way to turn the mundane act of showering into a relaxing, spa-like experience,' Matthew explains.
However, upgrading fixtures such as shower heads isn't an option for everyone. Matthew continues: 'If you don't want to spend a fortune, focus on upgrading taps, mirrors and small accessories. Pay attention to the details of your bathroom, such as high-quality towels, a plush bath mat, and decorative accents.'
2. Set the mood with ambient lighting
When designing a bath spa that oozes luxury appeal, you'll want to look at your current lighting options and what they do for the room. Matthew advises, 'Stark overhead lighting can often have the opposite of a soothing effect. While it's practical for detail-oriented activities like shaving, it's not ideal for creating a calming environment.
'For a relatively small but impactful upgrade, consider adding additional light sources such as recessed lighting, wall sconces, or pendant lights to create a layered effect which allows you to change the lighting depending on your needs.'
A cost-effective choice that blends practicality and luxury is strip lighting underneath a bathroom vanity mirror. It adds much-needed light when doing tasks such as putting on makeup, as well as a beautiful, luxurious glow in your bathroom.
If your bathroom candles aren't providing enough ambient light, consider installing dimmer switches. It provides greater control over the intensity of your bathroom lighting, which can be particularly useful for creating a relaxing atmosphere.
3. Focus on the materials
Materials are a common part of design that people overlook when making changes to their bathroom. People often focus on sanitaryware first, leaving materials for areas like bathroom tiles and worktops as an afterthought. When designing your bathroom, weigh up which materials will add a luxury aesthetic without taking costs too high.
'Adding materials like marble, travertine and solid wood are great ways to elevate the space but can be out of reach if your budget doesn't stretch that far. Luckily, nowadays, you can find more affordable alternatives like marble or wood-effect tiles or countertops that look the same as the real deal but without the hefty price tag,' Matthew explains.
Invest in built-in wood cabinetry to help minimise clutter and create the illusion of a bigger space. 'Or, incorporate a niche or create a purpose-built pocket for your on-display products,' Matthew suggests.
When it comes to the shower, replace a standard plastic shower curtain with a more luxurious-looking design, or replace it with a glass shower screen for a sleeker finish.
4. Make a statement
If your budget allows, replacing even just one of your core bathroom furniture pieces can elevate the whole room. Bath tubs are often seen as the focal point of a bathroom, so opting for a new freestanding bath could be an excellent long-term investment to upgrade the space and give it that luxury feel.
If replacing bathroom furniture isn't within your budget, Matthew suggests making smaller changes with wallpaper and framed wall art. 'Jewel-toned wallpaper is great for making the space feel opulent or choose something that is light and textured for a more elegant feel,' he says.
Another way to make a statement, and merge function with design, is to opt for a heated towel rail or even roman blinds – it'll make the space feel luxurious while still fulfilling a purpose.
5. Finish with a spring clean
Minimalism and luxury are two trends that go hand in hand when it comes to bathrooms. One of the easiest (and cheapest) ways to emulate a luxurious atmosphere is by having a clean and tidy bathroom. Consider tidying away any bath toys or shampoo bottles in a smart storage basket.
'It's natural for clutter to creep in occasionally, so be sure to keep your beauty products neatly organised or stored away,' Matthew says. 'Don't forget to keep your fixtures and accessories sparkling clean. Dedicate time each week to ensure your fixtures are spotless – not only is it hygienic but it will make the room look bigger and reduce maintenance issues occurring.'