11 bathroom finishing touches that will take your scheme to the next level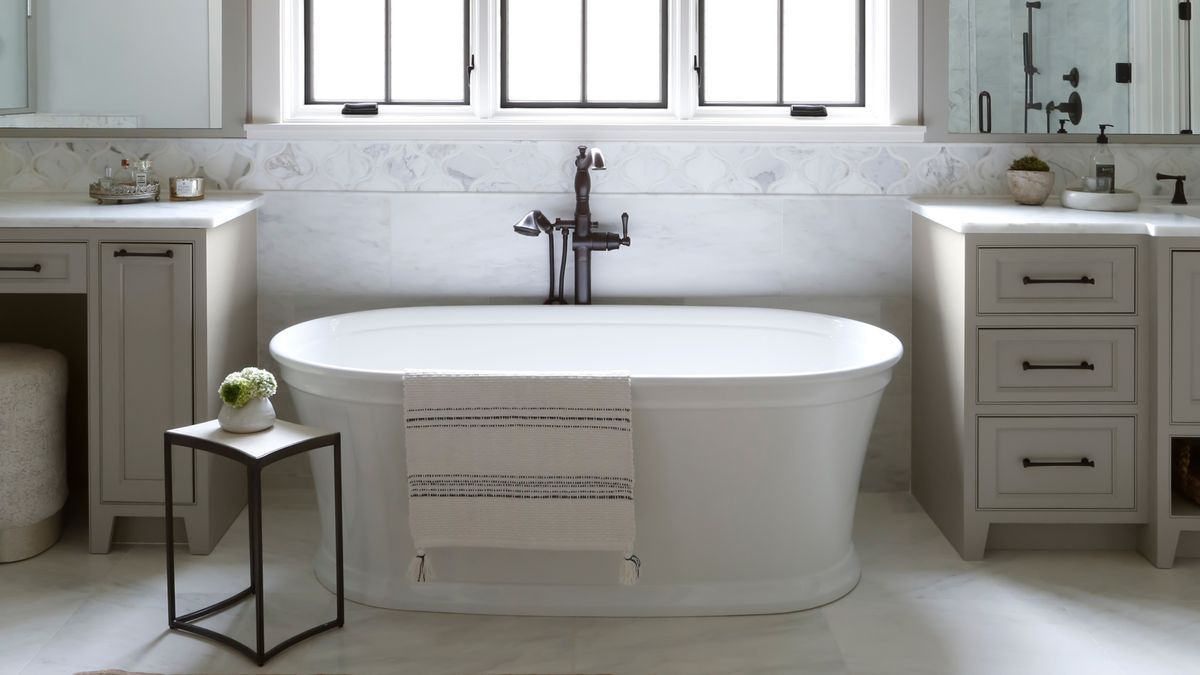 Thanks to the fact that they're a) small and b) highly fitted-out, bathrooms can feel like one of the most difficult rooms to make your own. After all, once your sanitaryware is fitted and your chosen tiles are in place, what else is there to add?
Happily, there are actually plenty more bathroom finishing touches than you'd perhaps first think, even if you don't have much surface space to play with. From brassware to blinds, textiles to trinkets, there's plenty to think about once your bathroom designer has left the scene – and the good news is that choosing bathroom decor can be the best part of the process. We spoke to interior designers to get their take on these modern bathroom ideas – here's what they suggested.
1. Hardware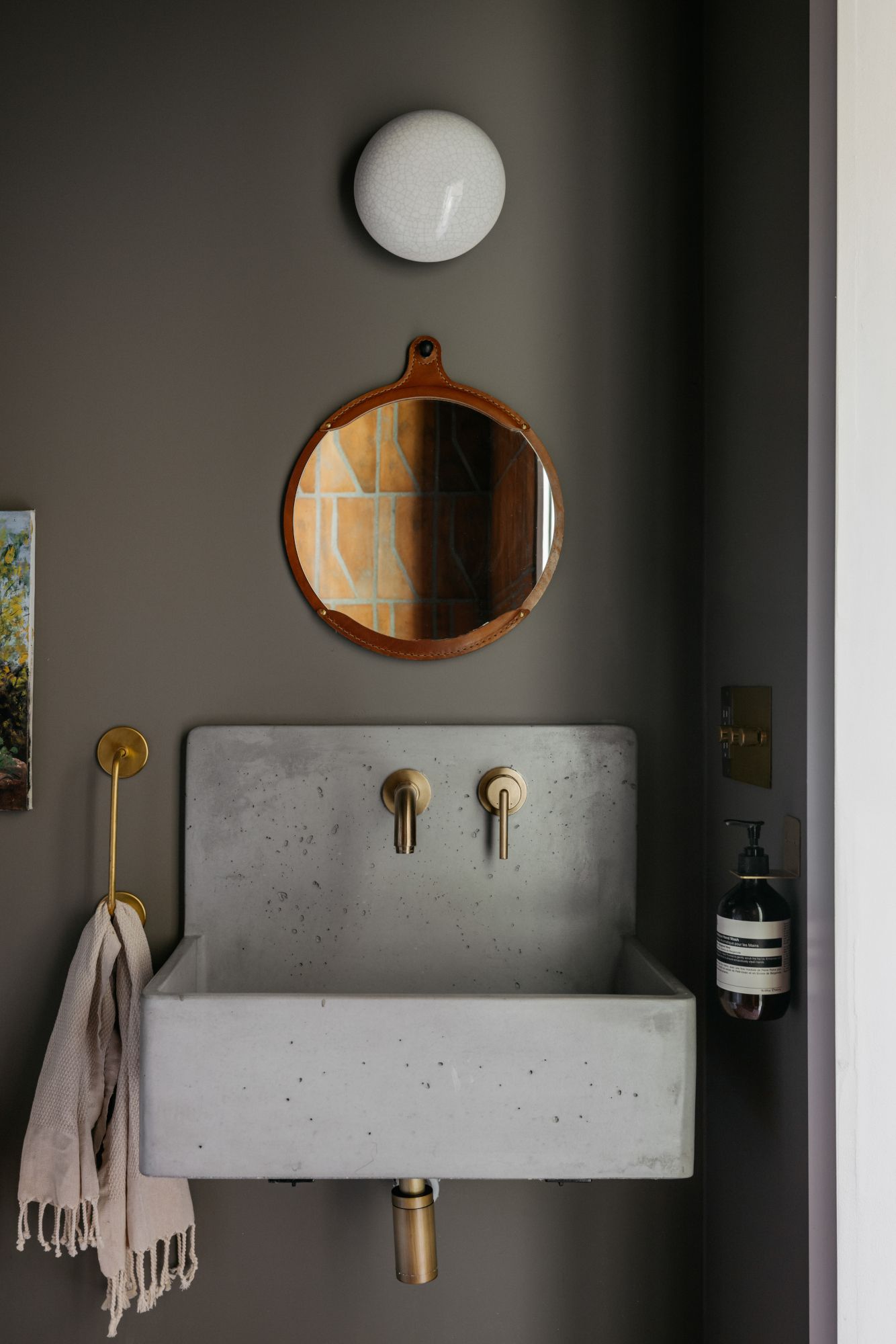 Towel rings, wall hooks, door stops, cupboard handles: there are plenty of hardware elements to think about beyond your bathroom taps, and they can all help add personality to your space. To start, look to what's already there for inspiration. 'We love matching the accessory hardware to the plumbing package to bring continuity and harmony to a bathroom,' says Samantha Struck of StruckSured Interiors (opens in new tab). 'We also like to keep things simple and the profiles we tend to select shows that.'
Hardware can be a versatile way to bring texture and color into a scheme, from knurled knobs to bamboo-effect handles. You also don't have to stick to classic items if you don't like them. 'I don't love a hand towel ring,' says interior designer Sara Johnson (opens in new tab). 'Instead I like to cut down a regular towel rod to hang a hand towel.'
Case in point: in this cloakroom, Kirsten Blazek – CEO and founder of Los Angeles design firm A1000xBetter (opens in new tab) – opted for minimalist hardware to keep the soap and Turkish towels she sourced for the space. 'There was not a lot of room in here for extra decorating items,' she says. 'We used a wall-mounted sink with no ledge, so I used a wall hung soap dispenser, which made the best use of the limited wall space. Instead of a more traditional towel ring I chose a brass hook.'
2. Lighting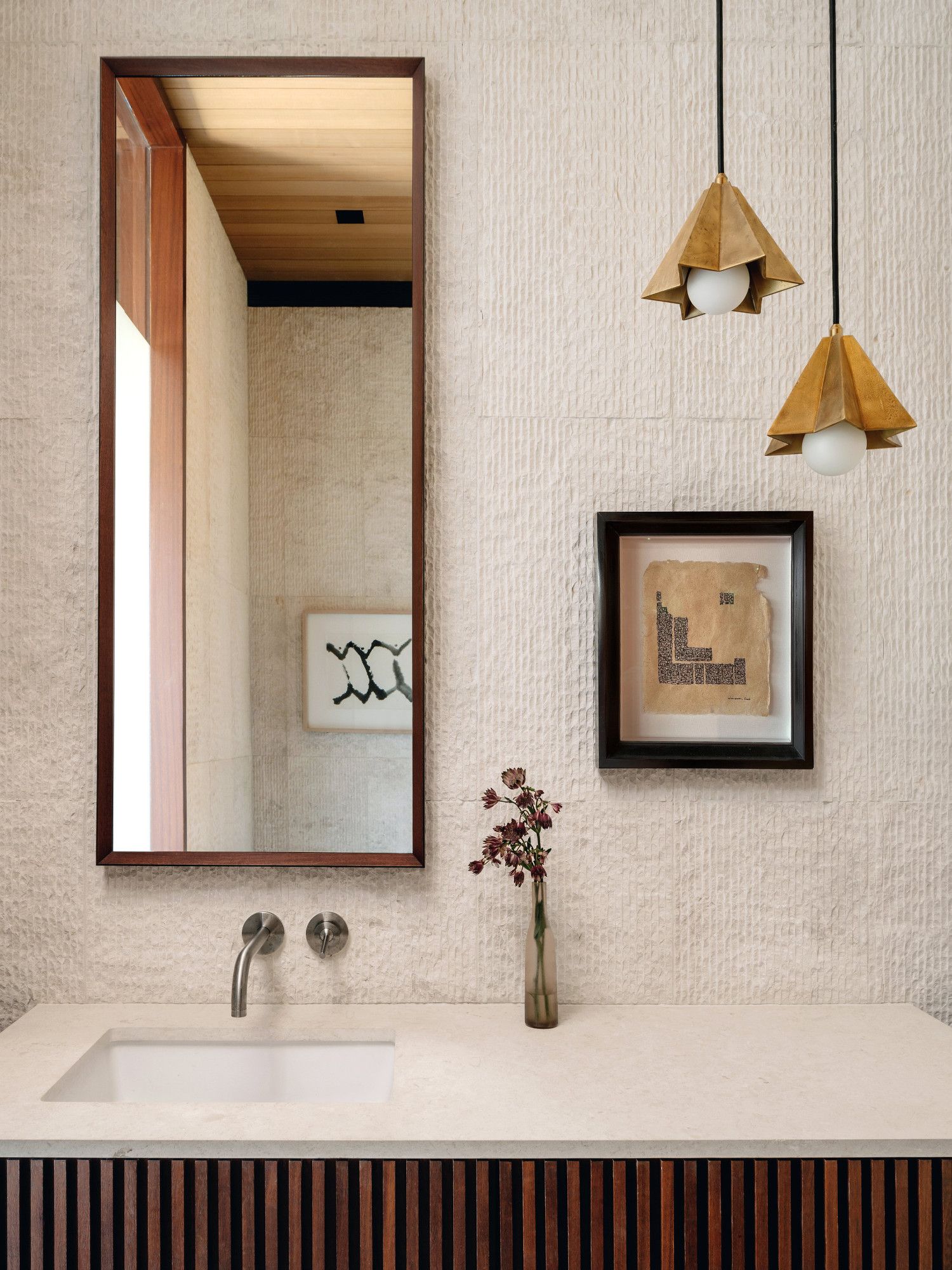 Balancing task and mood lighting in a bathroom, which is why you should talk bathroom lighting ideas with your designer, if you have one, from the offset. The lighting designer Machan Enever (opens in new tab) once told us the key to good bathroom lighting is to use concealed LEDs to mitigate unflattering shadow – but you can also have fun with stand-out designs that are as much about form as they are function, like the beautiful pendants in this space by Austin-based Cravotta Interiors (opens in new tab).
Kirsten Blazek recommends seeing your lighting in terms of layers. Of her project, featured previously, she says: 'It was important in such a small space with no natural light that the lighting choices were both practical but also added to the overall aesthetic. For the ceiling light, I chose a fixture from Soho Home (opens in new tab) that had multiple light bulbs so the space was lit well. I was then able to select a sconce that could provide more of a mood light. We also used one canned light in the shower as additional practical light.'
3. Furniture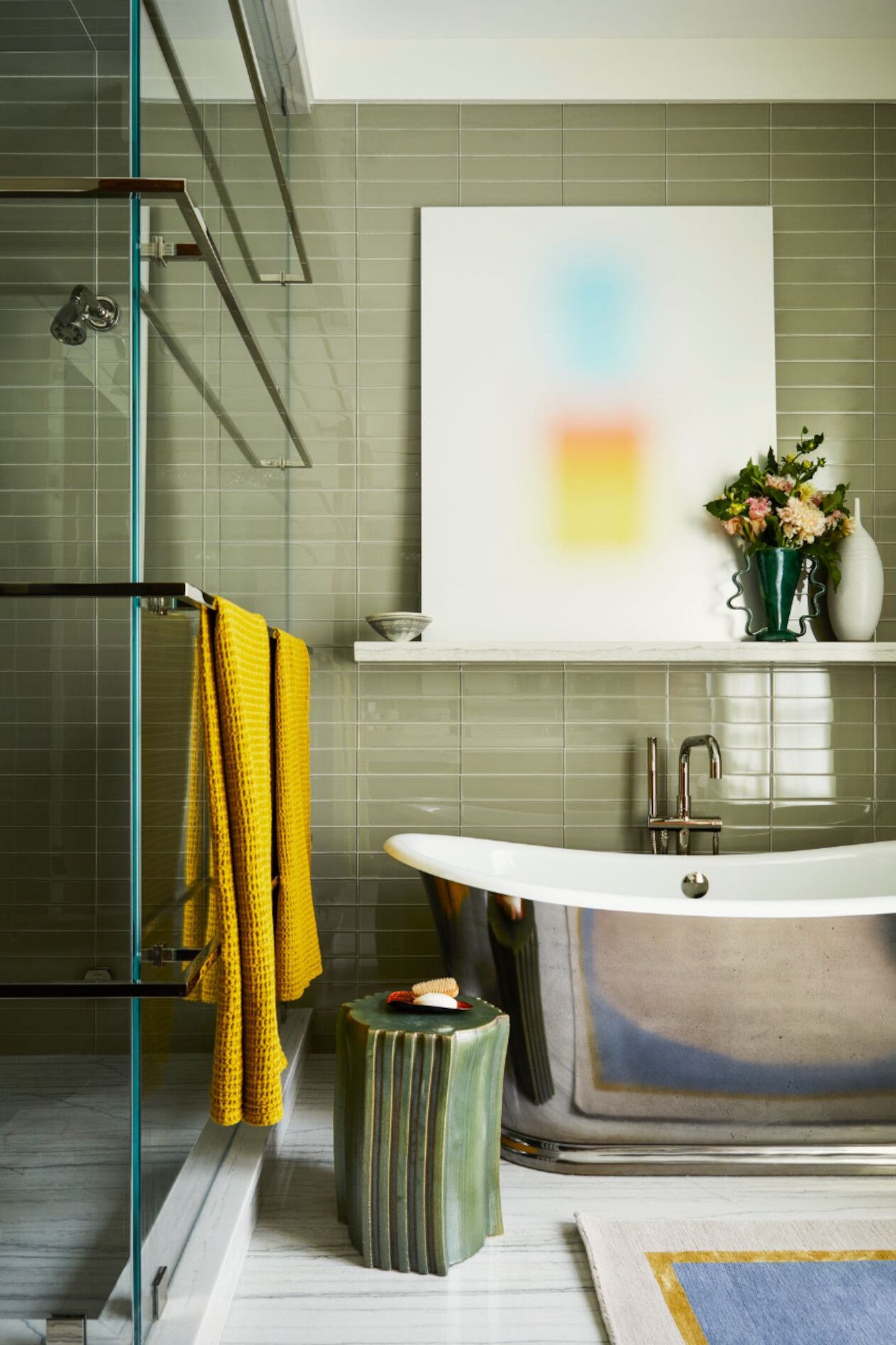 The addition of something as simple as a stool can add function and a dash of character to a bathroom. Take the above scheme by Lucy Harris Studio (opens in new tab), with a  charmingly awry green ceramic design from Floris Wubben for The Future Perfect (opens in new tab). It's not just a place to perch a laptop while you're in the bath: it helps draw the green bathroom color scheme into the centre of the room and adds an extra textural dimension.
'In full baths, with tubs or showers, a great (and super practical) way of adding a different texture is to have a stool or a bench – there are great vintage options,' says Connecticut-based interior designer Claudia Kalur of CFK Interiors (opens in new tab). 'I prefer them in wood or rattan or upholstered as they make bathrooms cosier.'
'Furniture is the icing on the cake for us,' adds Samantha Struck. 'After all the hard work of design and planning of the hard surfaces, furniture can swing the design from one style to another simply because of profile and colors.'
4. Backsplashes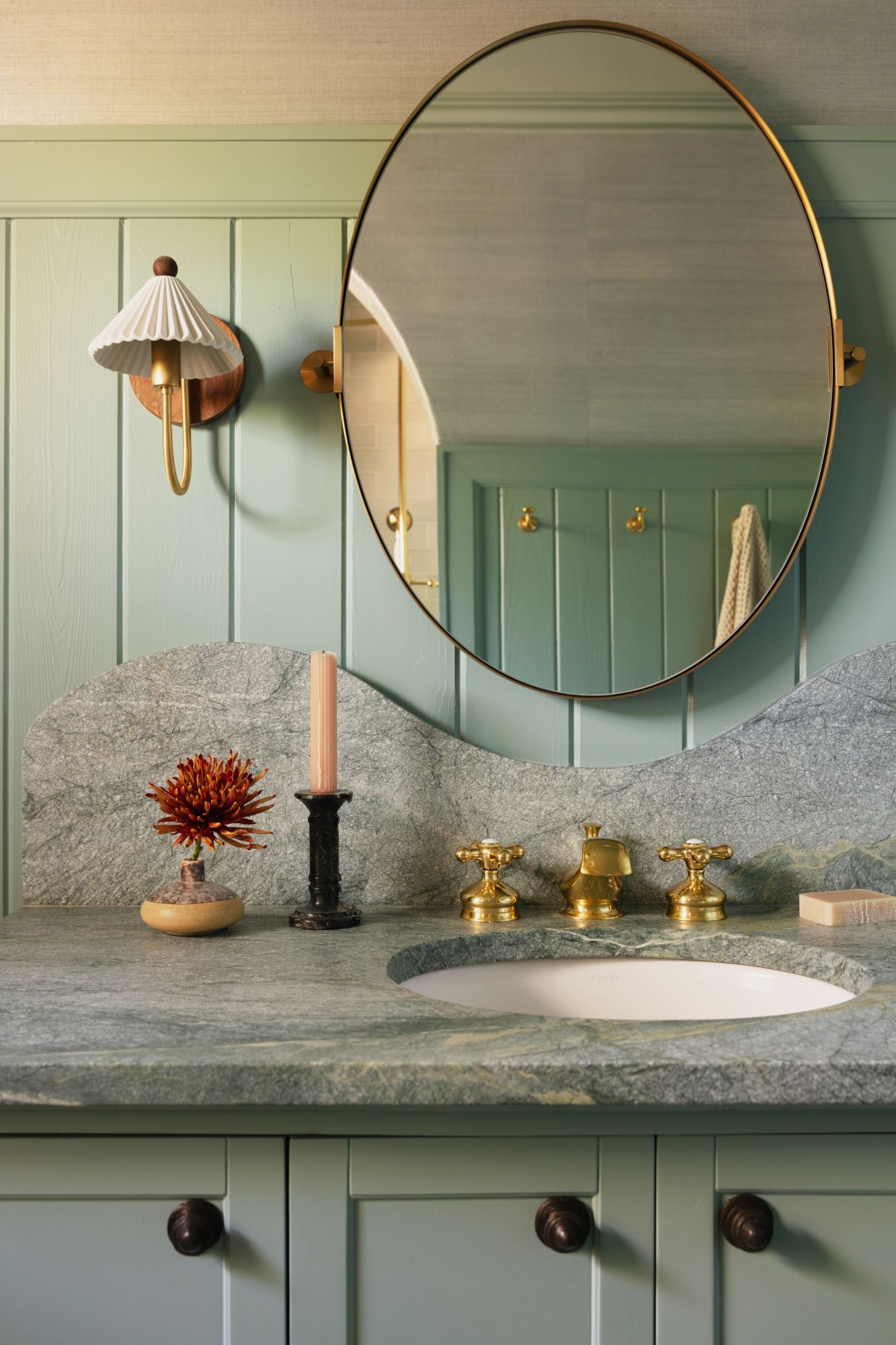 Rather than tiling your entire bathroom, investing in a backsplash – much like you would in a kitchen – is less expensive, and also allows you more freedom to update the space as much as you like. This project by Arkansas-based Meet West Studio (opens in new tab) saw designer Whitney Romanoff transform a vanity she purchased from Facebook Marketplace, bringing the stone countertop up the wall to create a beautiful wavy backsplash that's as decorative as it is practical. 
'We wanted to elevate this guest bathroom with a super custom feel,' Whitney says. 'We elevated it with custom paint to match the vertical wood paneling, handmade bronze hardware from Mexico, and the whimsical curve of the stone around the mirror to give the vanity a feel of an extra special hotel for guests to enjoy.'
5. Mirrors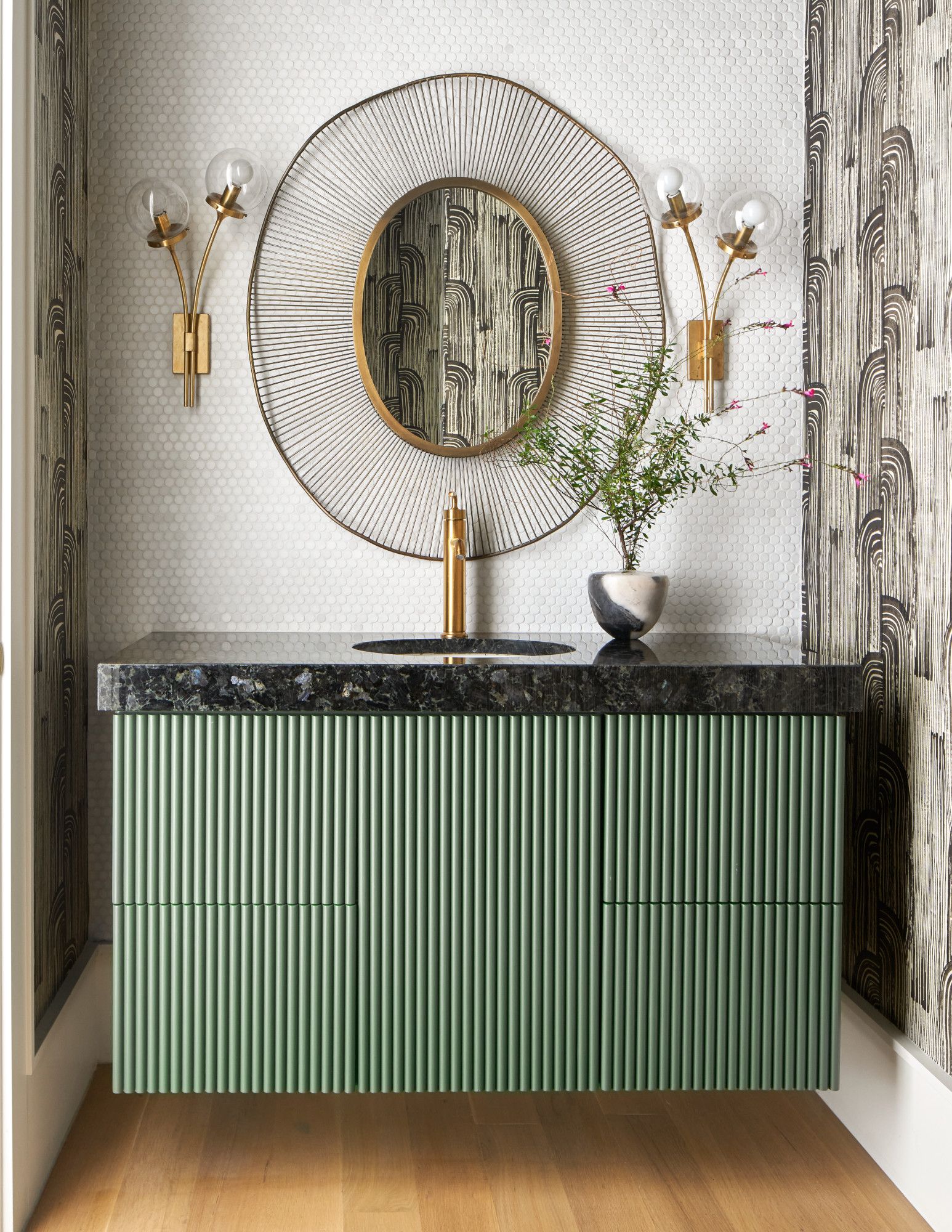 No bathroom is complete without a mirror, which means it's an easy route to adding interest to even the smallest of rooms. 'Bathroom mirrors are a great way to move light into a space and add depth,' says Samantha Struck. 'We tend to keep things minimal and sleek to allow the other fixtures and finishes to really shine.'
Of course, you don't have to keep things basic: for a maximalist, this is the chance to add an element of glitz and grandeur to a space. In this space by Dallas interior design practice Maestri Studio (opens in new tab), the mirror is the piece that takes the design to a different level, providing an instant centrepiece.
If you're sourcing a mirror for your bathroom, brand new isn't necessarily the way to go. 'I love vintage and antique mirrors in wood, gold or silver gilt,' says Claudia Kalur. 'They add immediate character to any bathroom.'
6. Textiles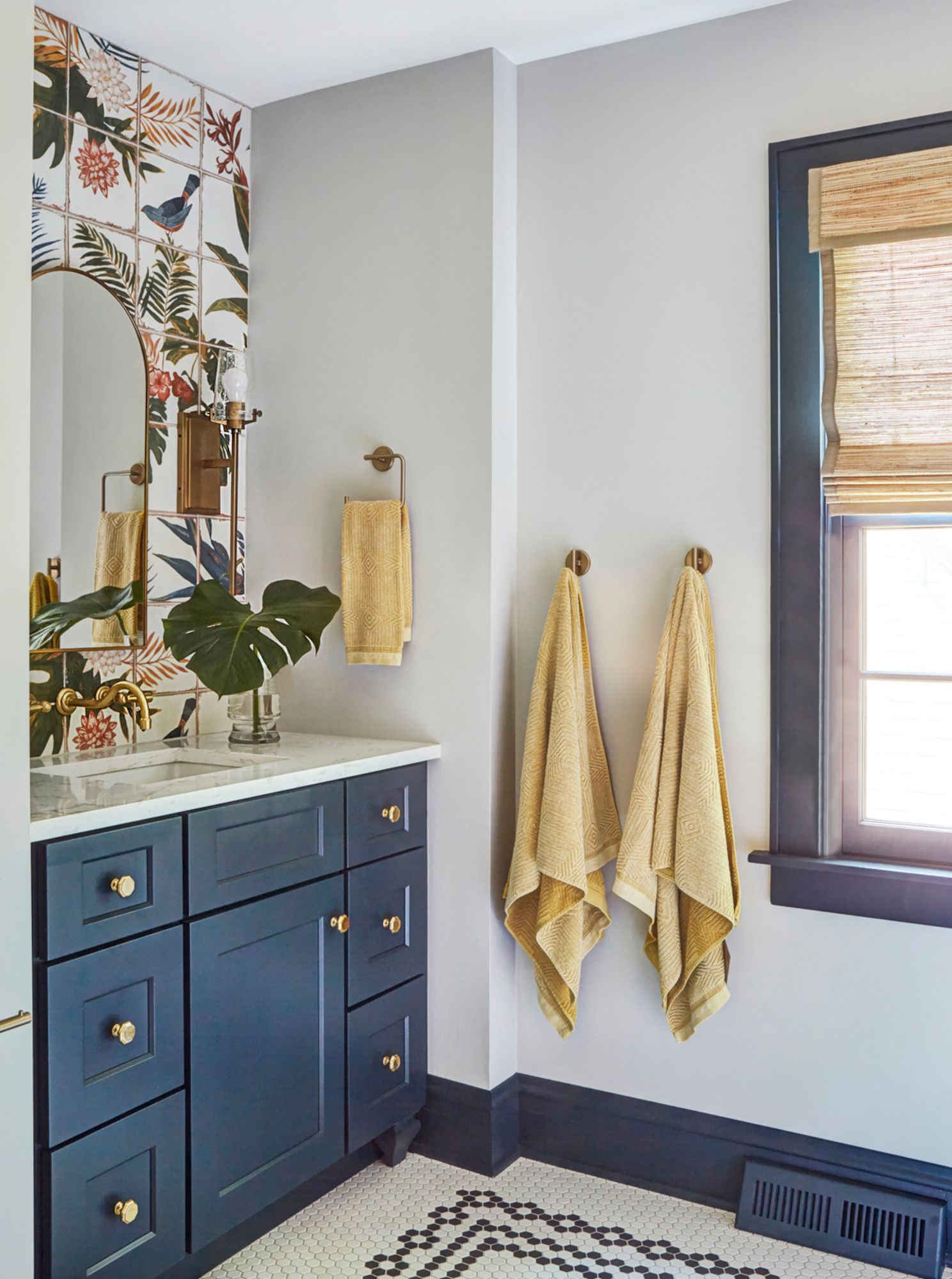 Soft furnishings like towels and bath mats are often an afterthought – but a sophisticated space relies on these finishes being as considered as any other. 'I think towels are such an important part of finishing a bathroom,' says Kirsten Blazek. 'I am a big fan of Turkish towels to bring additional color into a smaller bathroom. For my bath mat I like to use vintage rugs instead of an actual bath mat: they provide the same practical purpose as a traditional bath mat.'
Textiles also form part of your color scheme, so use them as a chance to complement your design or bring in an accent color, like the towels in this space by TKS Design Group (opens in new tab). Where you can, invest in natural fibers that will stand the test of time. It brings a different experience to your space, says Samantha Struck. 'Quality linens are a great way to elevate your bathroom to a spa-like feel. You know the feeling when you visit a luxury hotel and you get to experience their linens? You can also get the same feel by indulging in really great, natural fiber-based textiles.'
7. Storage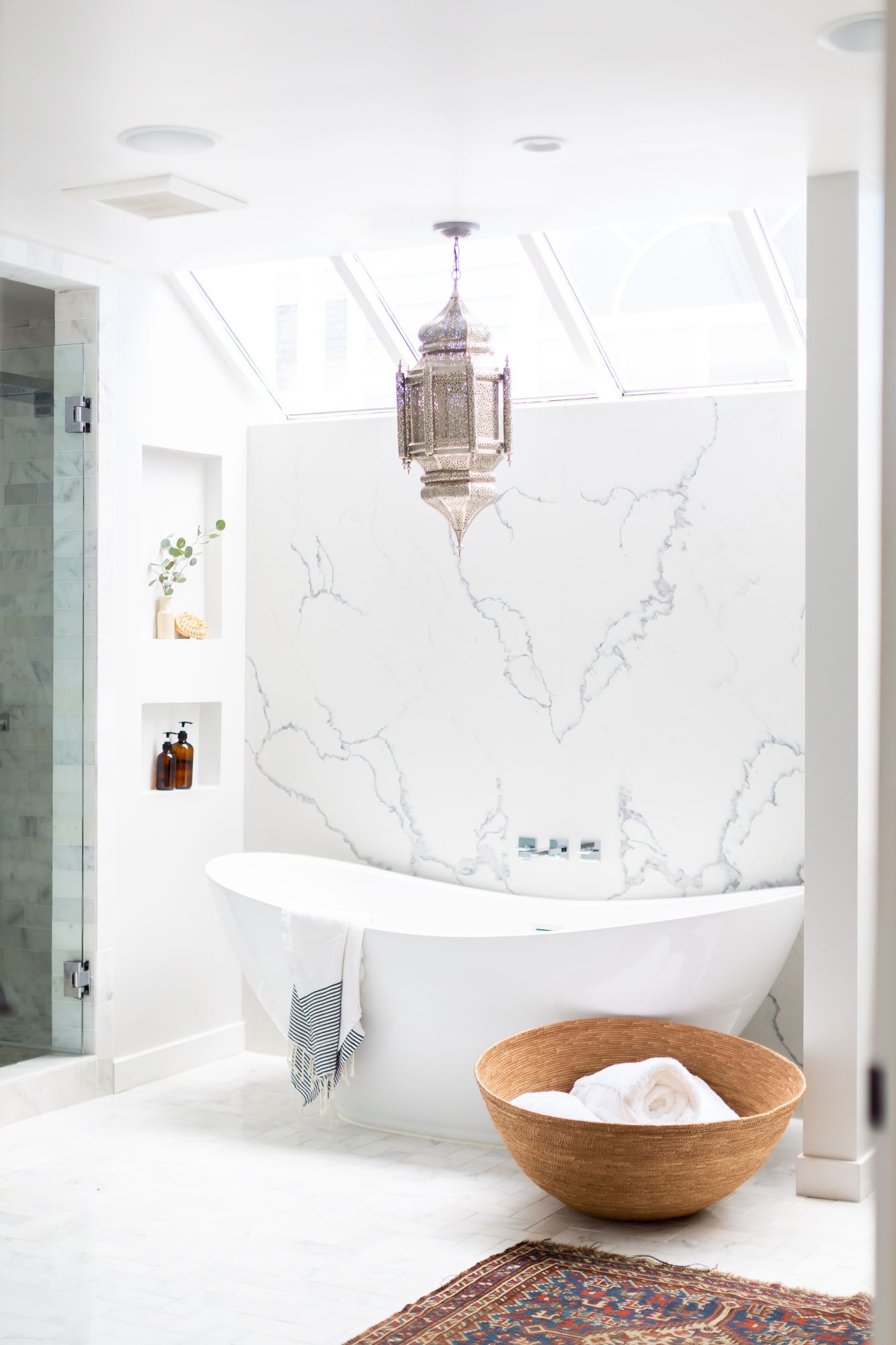 Many designers are fans of a built-in shower niche to store toiletries and show off design details. 'The niche is a design opportunity that allows you to showcase whatever tile material you've chosen with special detail, contrasting element, or change in pattern or scale,' says Mindy O'Connor, principal and owner of Philadelphia-based Melinda Kelson O'Connor Architecture & Interiors (opens in new tab). 'They're a huge step up from standard builder corner shelves and worth the cost. Stone-tiled showers with perfect niche layout details can evoke a sense of calm, and minimalist luxury with a practical application too.'
Consider also the extra details you can add to standard storage to make everyday life that little bit easier. 'These are splurges, but it is so convenient to have toothbrushes or razors charging in the medicine cabinets, and to have your hair dryer plugged in the vanity drawer,' adds Mindy. 'Counter space is always precious and clearing away the clutter of these corded essentials makes for a more soothing and spa-like space.'
And if you need extra bathroom storage, consider baskets to store items like towels and toilet rolls. In the scheme by interior designer Breegan Jane (opens in new tab), above, an oversized version is a statement piece all on its own – and adds a spa-like sense of luxury to the space.
8. Window treatments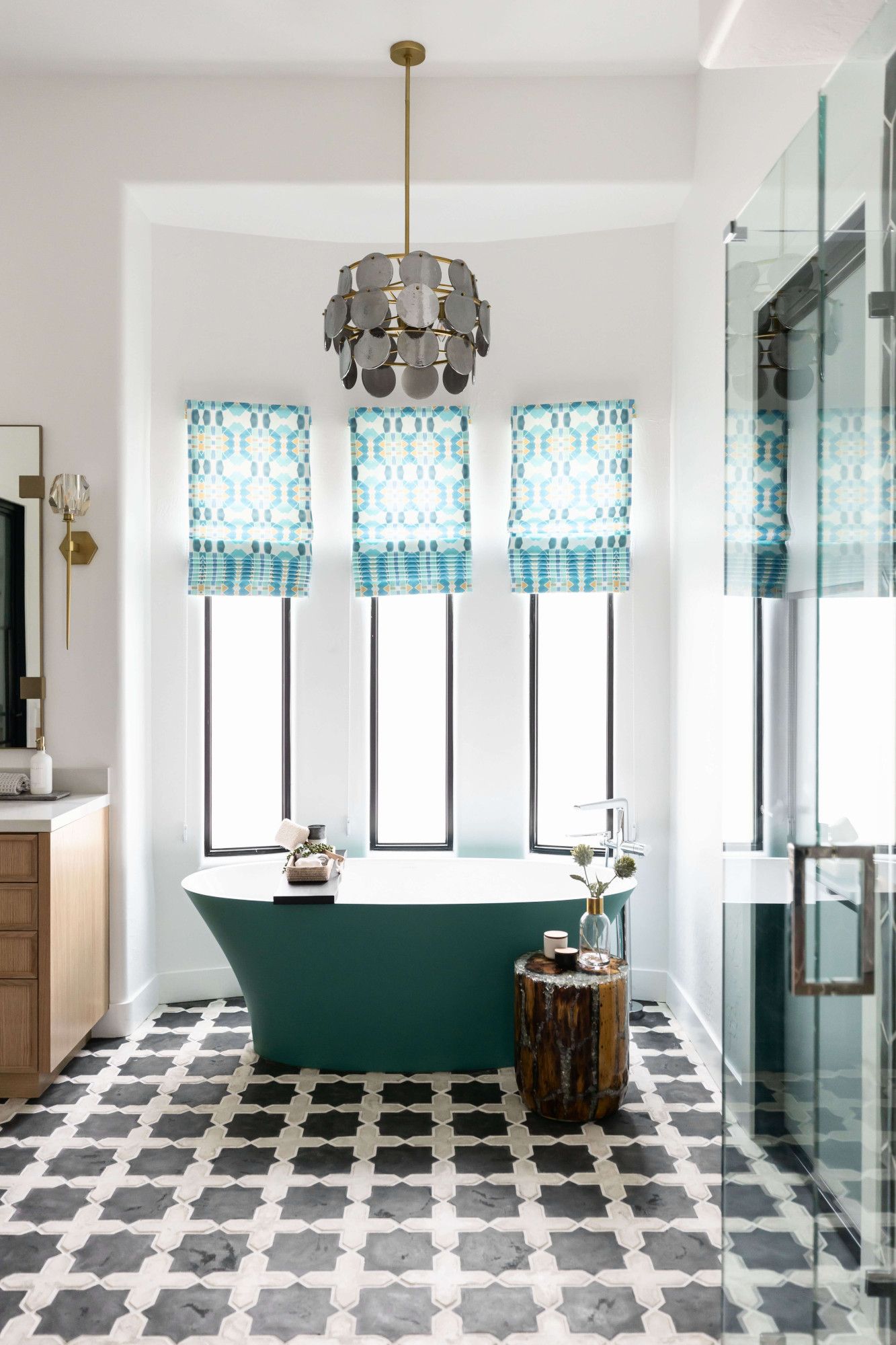 A bathroom window treatment is a chance to bring in pattern, color and texture. 'A Roman shade is often a better idea than using curtains behind a tub to prevent the bottoms from getting wet,' says Lauren Lerner, founder and principal designer of Scottsdale's Living with Lolo (opens in new tab), who designed the scheme above. 'We prefer the look of outside-mounted roman shades, but depending on the window and what's next to it, an inside mount may be the only option.'
That doesn't mean curtains are a write-off, depending on where your window is in relation to high-splash zones. 'I love a beautiful sheer curtain in a flowy linen on a small rod – it softens the space and gives privacy while still allowing for light to come in,' says Claudia Kalur.
9. Shower curtains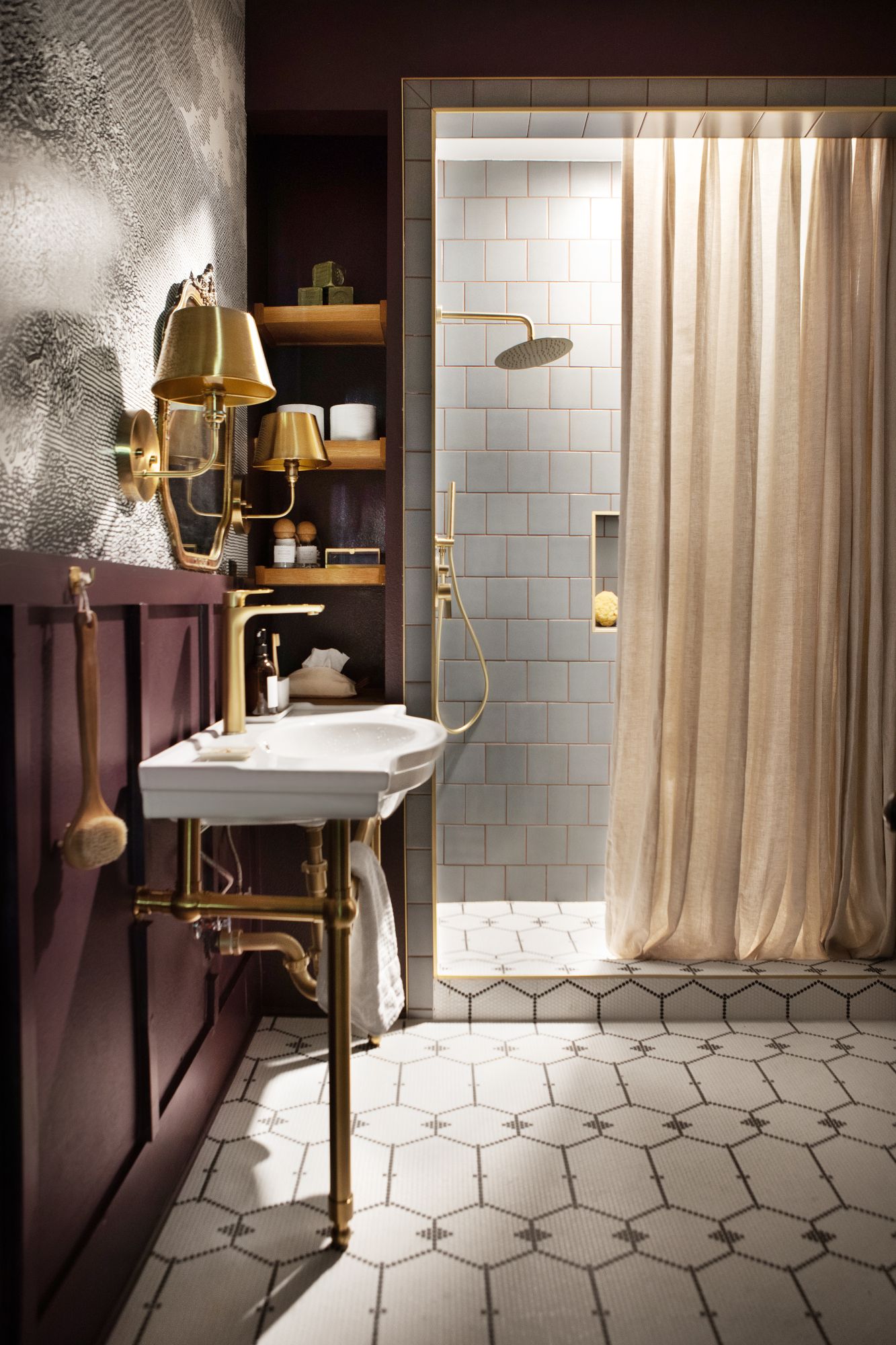 If you've turned your nose up at the very mention of shower curtains, let us change your mind. When Louisville, Kentucky-based interior designer Bethany Adams (opens in new tab) had the opportunity to redesign an historic bathroom, she traded out a traditional shower curtain for a pair of draperies. 'The look is elegant, refined and easy to accomplish,' she says.
Alternatively, give an ordinary shower curtain a refined edge by making them part of an architectural feature – like the project above by Urbanology Designs (opens in new tab), which sees the shower (and therefore the curtain) set higher than the rest of the bathroom, so the top of the curtain recedes into the ceiling.
'If you're not a fan of the maintenance of shower glass, curtains are a great way to go,' says Samantha Struck. 'If you want to hide the hardware, consider a recessed rod system in the ceiling. If you don't mind the look, match the finish to the plumbing fixtures. Avoid patterns and glaring colors. The shower curtain is not the feature, so try to keep it minimal and allow the other more interesting things – lighting, plumbing, accessories – to shine.'
10. Artwork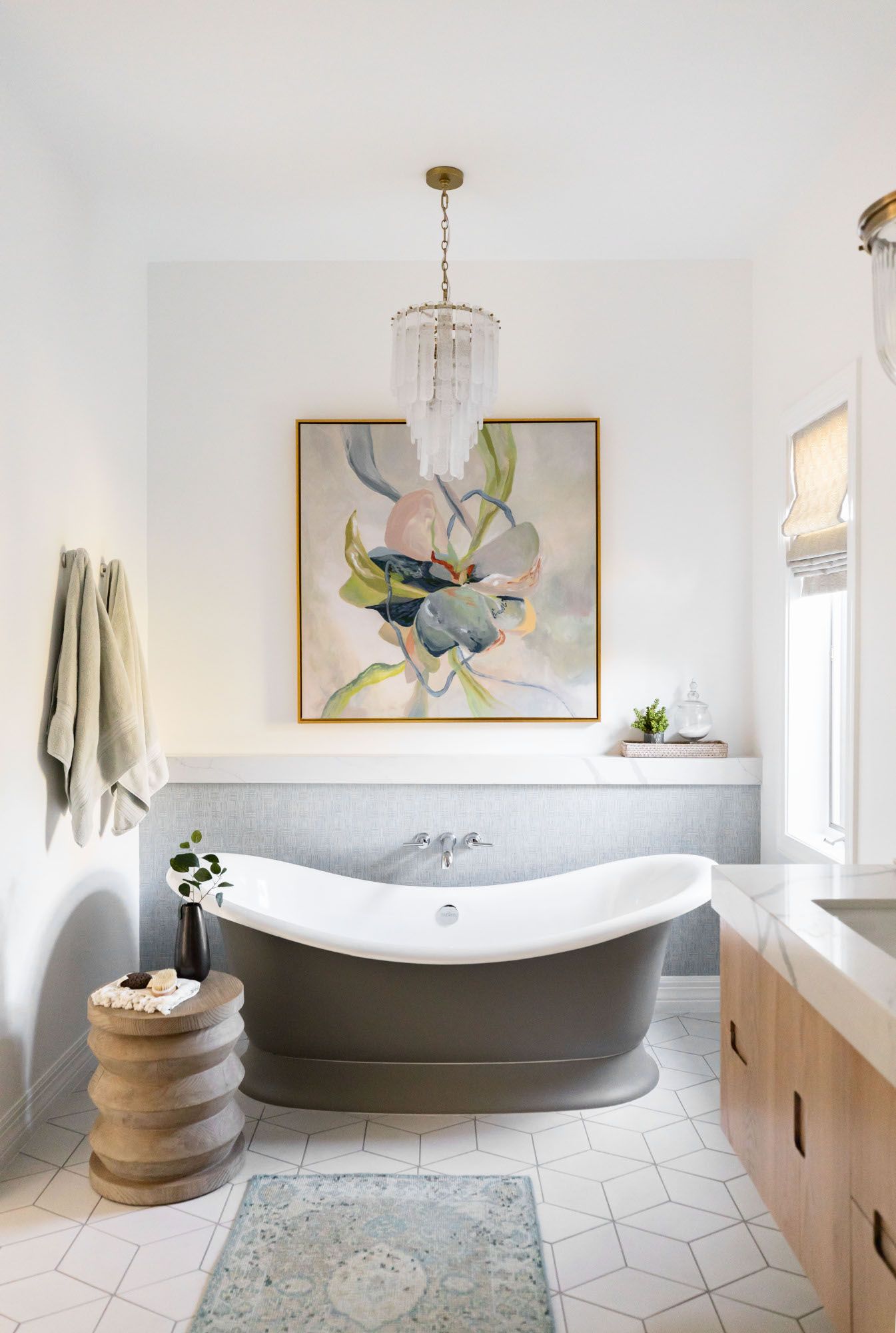 Don't neglect artwork as a key part of your bathroom's design. 'Art is essential – every project has it,' says Samantha Struck. 'We advocate for you to love the pieces that are present in your space. Try to avoid picking something because it's pretty. Find the pieces that truly speak to you and slowly build your collection over time. Guests can feel your connection to it and it will add intrigue and curiosity.'
Of course, there's also a practical side to choosing art for the bathroom – something that Des Moines-based art gallery owner Liz Lidgett (opens in new tab) can advise on. 'Look for art created from materials that will not be affected by steam or humidity: think tile or metal pieces that will not warp over time,' she says. 'I try to stay away from wood or canvas pieces for the bathroom for those reasons. In terms of content though, anything goes! I, personally, tend to lean towards pieces that make me feel calm and contented. It's all about creating my own personal spa for my self-care time!'
11. Trinkets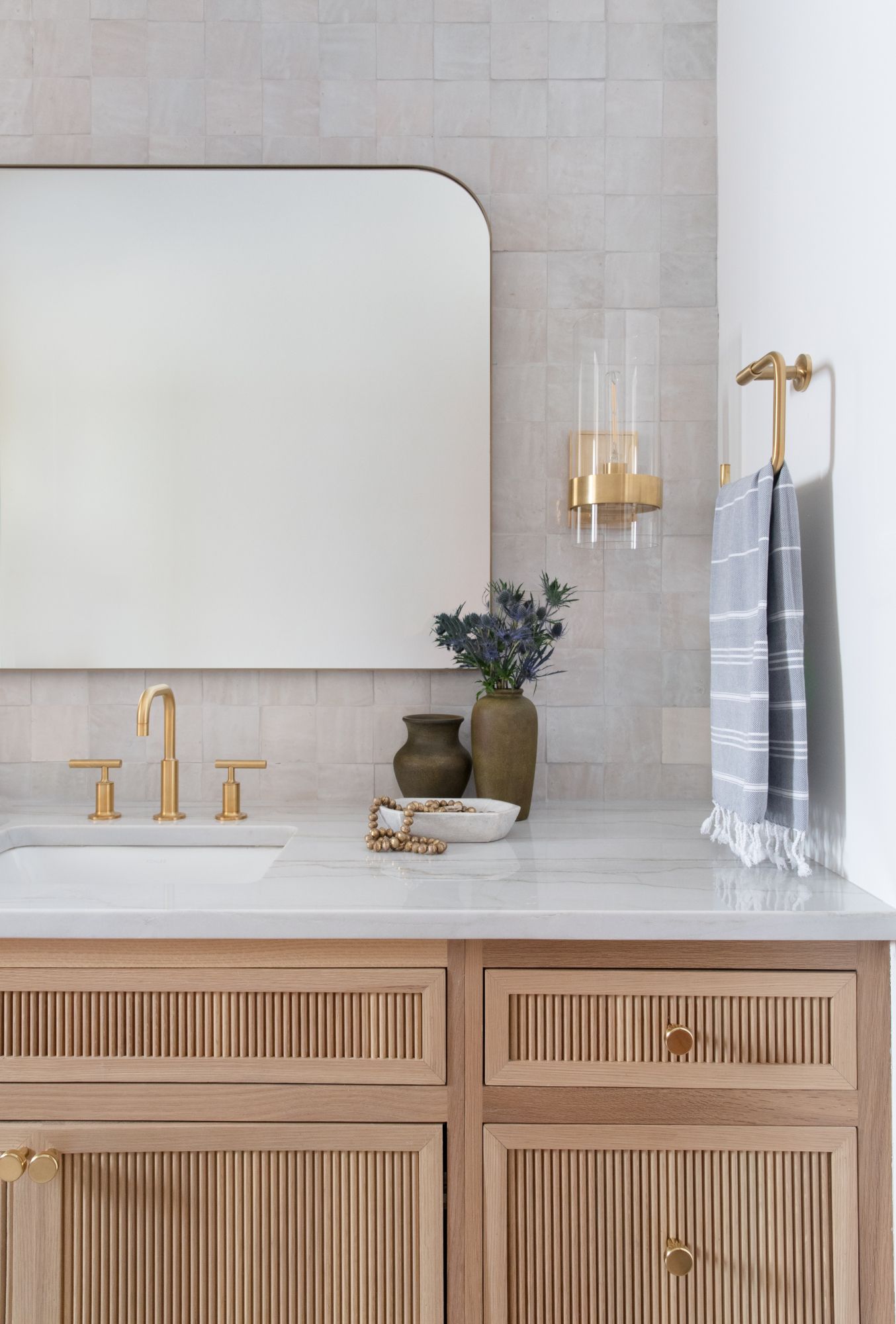 Call this the 'and the rest' category, if you will – when we say trinkets, we mean any small addition that's meaningful to you and adds interest to your space. 'Accessories add the finishing touches to the design and help bring out the client's personality,' says Sara Malek Barney of Austin, Texas's BANDD/DESIGN (opens in new tab), who created the space above. 'They also draw the eye to a focal point which helps draw interest to a space.'
'I like to source a collection of ceramics and then find uses for them in the bathroom, rather than hitting up the bathwares aisle of a store,' says Bethany Adams. 'Just about any small vessel or vase can hold things like cotton balls or q-tips and the effect is so much more refined than those matchy-matchy sets.'
Alternatively, opt for a subtle dash of glamor with metallics. 'Display cosmetics that you use every day on a silver tray,' says Sara Johnson. 'I also love a large glass jar to hold bath salts. Use a pretty ice scoop or tea cup to scoop the bath salts out.'
And of course, the quickest way to upgrade your bathroom decor is with a fresh bunch of flowers. 'From artwork and one-of-a-kind vintage mirrors to luxe cotton hand towels and sleek soap dispensers, I'm a big advocate for upgrading those items you see, touch, and use on a daily basis,' says Lauren Sullivan of Well x Design (opens in new tab). 'But the easiest finishing touch to any space? Fresh blooms.'